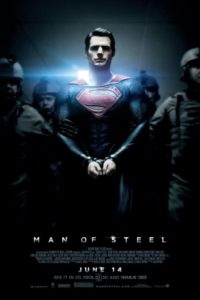 As kids, me and my friend Chris would spend hours creating Superman "S"'s out of paper and taping them onto our t-shirts. Then awaiting my mother's distraction, we would take towels from the closet and run off(errr… fly off) using the towels as capes. We were inspired to do such things by the Superman movies starring Christopher Reeve.
After the failure of the 2006 movie "Superman Returns" and soap opera TV series, I entered the theater with a glimmer of hope as Christopher Nolan's nose was in on this project. A smart move by DC as I am not a Zack Snyder fan. I had never apologized for taking someone to a movie before 'The Watchmen",  happy to say no apologies needed here.
Note I always stay away from movies plot and details… T
The movie had a surprising strong sci-fi feel, and the villain and story made sense, it was fresh story, and not a repeat of stories told before. As in all superhero movies the villain casting/story is critical, and it was very well done. It took time to warm up to the actress playing Lois Lane, though the Superman casting was excellent and I am sure the ladies are fans. Henry Cavill was a strong Superman and arguably as good if not better suited for the role then Christopher Reeve was in his day. The movie had great special effects which is a trait of a Zack Snyder, but there were fight scenes where the effects were overwhelming. I have to say the costume looked modern and cool.
Overall I really enjoyed the movie but was not going out and buying a cape after the show ;-). I gave it 4 WhiteFire heads out of 5.
As always check out my free web comics at www.whitefirecomics.com

This entry was posted in